Guess Who Else In the House Is Getting Fatter!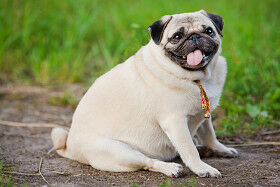 We're always hearing about the obesity problem in America, and apparently that isn't limited to humans. A new report reveals that America's pets are getting fatter and while you may think a chubby dog or cat is cute, it could cause some real problems.
According to a report by Banfield Pet Hospitals, of the 2.5-million dogs and 500,000 cats who visited a Banfield facility last year, one in three were either overweight or obese. This is an issue because, as Dr. Kirk Breuninger, a veterinary research associate at Banfield, notes "more than 20 disease conditions have been linked with pets being overweight."
And having an overweight animal can prove pretty of costly to owners. The study finds that owners of overweight pooches spent 17% more on healthcare costs over the past five years than those with healthy weight dogs, while those with fat cats spent 36% more than those with healthy weight cats.
As for why there are so many more overweight animals, experts say it could be because owners aren't making sure their pets get enough exercise, or pets are eating too much, with owners possibly at fault for giving them too many treats as a way of communicating with their animals. The good news is it isn't hard to get your animal back down to a healthy weight. Breuninger suggests taking your dog for more walks could help, as could cutting back on the treats, no matter how much love they give you for them.
Source: USA Today

Scotty Page
Want to know more about Scotty Page? Get their official bio, social pages & articles on Big I 107.9!
Read more