We Can't Make It A Whole Week Eating Healthy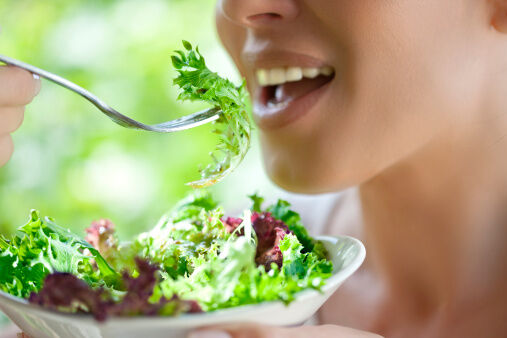 While a lot of us have the best intentions when it comes to eating healthy, it seems most of us have a hard time sticking to it. According to some new research by Grub Hub, even if folks start the week healthy, they usually give up on it after Wednesday. The food delivery service analyzed their data and finds that Americans eat their healthiest on Monday, but things start to go downhill by Wednesday and by Thursday they start indulging again.
The service revealed the most ordered food depending on the day of the week, and, not surprising, after a likely weekend of indulging, folks go right to the salads, with Monday's most popular dishes being Cobb salad, which is 52% more likely to be ordered on Monday than any other day of the week, followed by a Thai Crunch salad (48%). By Friday though the salads are gone, and people are headed for the pizza, although experts suggest it's becuase Friday is a much more social day, and pizza is a good option for a group get together.
As for the popular dishes on other days of the week:
Tuesday – Thai Cruch salad (37%) and Roasted turkey Cobb salad (37%)
Wednesday – Chipotle cowboy salad (38%) and Shwarma bowl (26%)
Thursday – Crab Rangoon (27%) and Shawarma bowl (26%)
Friday – Red pizza (72%) and cheese pizza (65%)
Source: New York Post

Scotty Page
Want to know more about Scotty Page? Get their official bio, social pages & articles on Big I 107.9!
Read more